The average cost of a monthly gym membership is around $37. Even budget gyms will cost you between $40 and $70.
Of course, not everyone has the budget to pay such prices each month. That is why many people feel that Anytime Fitness is an expensive gym in the US.
If you are thinking of becoming a member here, you are in the right place. Here is your complete guide to this gym and its membership prices.
Learn More: Lifetime Fitness Vs. Anytime Fitness: Which Is Better?
Reasons Anytime Fitness Is Expensive
Anytime Fitness is expensive because you can use the membership at any location worldwide, you can visit the gym 24/7, and they spend a lot of resources on training their staff. When you enter the Anytime Fitness gym, you will be provided with a warm welcome and positive energy.
However, you will not get as amenities as other gyms when you opt for the Anytime Fitness membership. They don't have basketball courts, yoga studios, saunas, childcare, and other amenities at most gyms.
You will benefit from some excellent gym equipment along with a spacious place where you can train. Even group classes vary by location, and not all locations will offer group classes, such as Pilates, Zumba, or more.
Visit The 4,500 Locations Worldwide
Anytime Fitness has more than 4,500 locations worldwide, and once you become a member, you can visit any location. The idea behind the gym was to offer memberships to busy and traveling professionals that can get fit no matter where they are.
If you travel a lot, then the membership at Anytime Fitness will be worth it. You will be able to work out no matter what region you visit with ease and convenience.
Of course, each location will vary in what they offer to the member. That is why you must check the amenities of the location before you visit.
Open 24/7
Another reason why Anytime Fitness is expensive is that the gym is open 24/7 to members. You can get in a late-night workout or an early morning one, depending on your timings and the gym will be open for you.
Of course, there will be fewer staff if you visit at odd hours and you might have the gym all to yourself. Busy people that don't get time to gym normally will benefit from this the most.
Opening the gym at all times also increases the cost for Anytime Fitness. So, you will have to pay for this through the membership.
Related: What Is The Best Time To Go To Anytime Fitness?
Trained And Welcoming Staff
Finally, another reason why Anytime Fitness is expensive is that the staff is welcoming and highly trained. The gym spends a lot of money, resources, and effort on training its staff.
When you enter the gym, you will be given a warm welcome by the staff. They will also help you out with anything you require inside the gym.
If the environment of the gym matters to you, then you will love coming here. The staff will always be at your disposal to help you out.
How Much Is Membership At An Anytime Fitness Gym?
The membership is not the most expensive one, but it is on the high-end side. Typically, the membership will cost you between $54 and $59 each month without including taxes and other costs. When you add additional costs, the cost will be higher.
| | |
| --- | --- |
| Membership/Costs | Price |
| 12-Month Plan | $29.50 plus tax every two weeks |
| 24-Month Plan | $27.50 plus tax every two weeks |
| Success Kit Cost | $99 fee |
| Key Fob | $25 fee |
That is the standard cost for a membership at Anytime Fitness. You can select between plans of one and two years, depending on what you want.
The price might vary slightly, depending on the location you choose to become a member. However, these are the typical prices you can expect when you opt for a membership at Anytime Fitness.
Learn More: Anytime Fitness Personal Trainer Cost
Is Membership At Anytime Fitness Worth It?
Membership at Anytime Fitness will be worth it if you are a busy professional looking for random times to workout at. That is because the gym has good equipment, but it is nothing out of the ordinary.
Besides that, it doesn't offer as many amenities as other gyms do in the same or a lower price range. For example, you will not have access to pools, saunas, and many other amenities that almost all gyms offer.
Anytime Fitness is only great for training at a time of your choosing. People with strict and busy schedules might get a good deal out of it, but not everyone.
That is why you must weigh these amenities and think about whether the gym is worth it for you. Unless you are a busy professional that travels a lot, it might not be of much use to you in the long run.
Anytime Fitness Vs. Other Gyms
Anytime Fitness is not an expensive gym when you compare it to some other gyms. However, it is not the most affordable option either. The gym has middle-tier pricing for anyone looking to train with equipment.
| | |
| --- | --- |
| Gym | Monthly Membership |
| Anytime Fitness | $59 |
| Gold's Gym | $50 |
| LA Fitness | $45 |
| Planet Fitness | $23 |
| Crunch Fitness | $149 |
| Equinox | $285 |
Anytime Fitness also has more than four thousand locations you can benefit from. If you are someone that loves going to the gym and you travel a lot, then you will perhaps get the most use out of their membership.
No matter what membership type you choose, you will have access to all the gyms by this chain. It will be a convenient option for you when you are in another place.
Remember that the gym equipment is not too extensive, as you will benefit from the standard equipment. However, the gym has not added a lot of equipment that is specific to various fitness goals.
So, you can weigh all of these options and then decide which gym membership will be ideal for you. There are many budget-friendly gyms at your disposal if you don't have a high budget.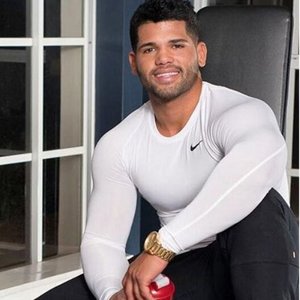 Austin is the author of loveatfirstfit.com and a personal trainer with extensive knowledge in nutrition. Austin is passionate about helping others to find a suitable healthy lifestyle and feel good about themselves. Austin's goal is to help people push their limits and achieve their physical performance.