If you're a parent looking to take your 12-year-old to the gym or just an enthusiastic youngster, then it's important to understand if a 12-year-old can work out at a gym and should a 12-year-old workout at a gym.
Many gyms have age restrictions, and one of the reasons for this is that tweens and teens are still growing, so putting heavy weights or other stress on growing joints may be an issue that needs to be reviewed before heading into a gym.
Can 12-Year-Olds Workout At A Gym?
Most gyms have an age restriction that limits younger members from working out, this is typically 13-14 years old, but in a few cases, it may be 12 years old, such as with 24 hour fitness, which is one of the few major chains that allow a 12-year-old to workout at their gym.
The age restriction generally limits younger adults' ability to work out alone, they will require a parent or other adult over 21 years old to work out with them. As teenagers start to get older, they may be able to work out alone if a waiver by a parent is signed.
Some smaller gyms in your area may allow 12-year-olds to work out at their gyms, but that would be smaller or private gyms, and you'd need to check with any gyms locally.
Many schools have a gymnasium used for physical education and depending on the school, there may be cardio and weight equipment available for use by students only. This becomes a bigger possibility once you reach high school.
Can A 12-Year-Old Work Out At 24 Hour Fitness?
A 12-year-old can work out at 24 Hour Fitness without parental or adult supervision, as long as their guardian signed all membership agreements for them, this includes being a guest of a member in good standing.
This restriction stays in place from 12 – 17 years old. Once somebody turns 18, they can sign up like any other adult.
Kids under 12 can not work out at 24 Hour Fitness and must be accompanied by an adult at all times. Children over 6 can't go into opposite gender bathrooms with a parent.
Can A 12-Year-Old Work Out At Gold's Gym?
Some Gold's Gym locations allow a 12-year-old to work out when supervised by an adult and a parental waiver has been signed, this age restriction can vary between 11 – 13 years old for the minimum age allowed. 
Parental waivers must be signed every year until the member reaches 18 years old. You'll need to confirm with your local Gold'S Gym to find their age restrictions.
Can A 12-Year-Old Work Out At Life Time Fitness?
A 12-year-old is considered a junior member at Life Time Fitness and can work out there. Junior members between the ages of 12 – 13 can use the fitness floor and free weights but can't be primary members of the gym.
A junior member needs a partner or guardian to have a membership, and then they can access the gym as part of the membership.
Are There Kids Only Gyms?
12-year-olds may find it challenging to use the heavy equipment at standard gyms and may even be intimated by an adult gym, so there are dedicated gyms for younger kids which focus less on strength training and more on agility, speed, endurance, and other fitness skills.
Some larger chains to check out for 12-year-olds include:
Most of the kids-only gyms max out their ages at 12 or 13 years old, so you should check if there are currently programs available at your local kids-only gym that can accommodate your 12-year-old.
Because most kids-only gyms don't focus on weights, you'll also want to ensure that the activities provided are worthwhile. Things like Ninja Training is an advantageous training course to go through that can continue on past 12 years old and improves strength immensely.
Should 12-Year-Olds Workout At A Gym?
12-year-olds may be starting puberty, and they're growing quickly. Many people believe that weight training for teenagers stunts growth, especially the height you can achieve. However, that has been proven false, and light strength training is great for 12-year-olds and other teens.
It's important to understand that teens are growing, and putting too much heavy weight on their joints, tendons, and even their muscles can be a significant problem. 
So a 12-year-old looking to hit the gym should be supervised by a coach to ensure they're not lifting too heavy and performing exercises optimally to avoid injury. This could be a parent, a sports coach incorporating strength training, or even a personal trainer.
What Is Optimal Strength Training For 12-Year-Olds?
Strength training shouldn't be confused with weight lifting of any kind, which can include CrossFit, bodybuilding, powerlifting, strongman, and many other forms of very heavy lifting. The strength training for 12-year-olds should only be light weight without significant jumps in weight.
Body weight exercises are optimal for strength and resistance training for 12-year-olds. A coach should also be incorporating proper technique training into workouts for 12 -year-olds so that when they do add weight later in life, they have an excellent technique to stay injury-free long-term.
Should 12-Year-Olds Do Cardio At The Gym?
12-year-olds should get at least 30-60 minutes of cardiovascular activity in per day for at least 3 days per week. For most 12-year-olds, this can be achieved through organized sports or simply playing sports at school every day.
If your 12-year-old isn't playing sports or getting activity at school or home, then some cardio at the gym could be beneficial to improve their heart health and endurance levels. 
However, the amount of cardio should be monitored and kept lower, the same type of issues can be found in cardio with injury caused by repeated running on a treadmill for hours a day.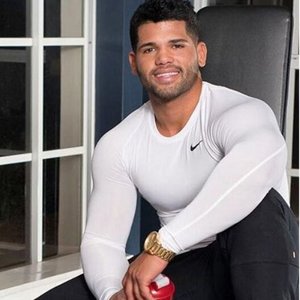 Austin is the author of loveatfirstfit.com and a personal trainer with extensive knowledge in nutrition. Austin is passionate about helping others to find a suitable healthy lifestyle and feel good about themselves. Austin's goal is to help people push their limits and achieve their physical performance.