Many gym chains in the US and other countries offer classes to members for an enjoyable experience. For instance, Equinox has various classes for its members.
Lifetime Fitness is another gym chain that offers classes. Crunch Fitness is also a famous club that has guest passes.
If you want to know whether they have classes, you've come to the right place. Here is what you need to know.
Does Crunch Fitness Have Classes?
Crunch Fitness is a famous gym chain that offers a variety of classes. You can participate in the session by using the app of this fitness chain. The best part is you can enjoy Zumba, cardio workouts, and much more.
The key thing to note is that you can qualify for Crunch Fitness classes by getting a membership at this club. Besides that, you must be above 18 to get classes at this gym chain.
The good news is that Crunch Fitness offers many types of classes to visitors. So you can enjoy high flexibility and an immersive experience at this club.
What Types Of Classes Does Crunch Fitness Offer?
Crunch Fitness offers various classes to customers in the US and elsewhere. The top session you can participate in at this gym chain is a Zumba class. You can also enjoy group classes at this fitness studio.
Besides that, you can also engage in thigh and butt bootcamps to remain fit. Not only that, but the gym also offers other exercises that can help you tone your body.
It is also essential to understand the cost of classes at this gym chain. This is so that you can make an informed decision about joining the club.
Crunch Fitness Classes Cost
The good news for you is that you don't have to worry about additional classes cost. This is because they are included in the membership packages of this gym chain.
Here is a price table that will help you understand the initial and monthly investments to get classes at this gym:
| | | | |
| --- | --- | --- | --- |
| Membership Type | Monthly Fee | Initiation Fee | Annual Fee |
| Base(single-club) | $9.99 | $30 | $8.33 |
| Peak(multi-club) | $22.99 | $30 | $8.33 |
| Peak Results(multi-club) | $29.99 | $1 | $8.33 |
The best part is that you can enjoy suspension training, classes, and much more at this gym. Not only that, but you can also use various amenities as a member.
Are Classes Included In The Gym Membership?
Crunch Fitness classes are included in the gym's membership packages. From Base to Signature packages, you can enjoy classes in every program. So rest assured that this gym gives the best value for money.
The best part is that you can book a position in a session beforehand to secure your place. A key feature of this gym is that it allows you to choose your schedule.
So you must find the schedule of Crunch Fitness to book a slot at the right time. Otherwise, you may not get a place at the gym because of the crowd.
How Can I Find Crunch Fitness Class Schedule?
You can find the classes scheduled at Crunch Fitness by opening its website in the first step. Then you should click on the classes tab that is on the top of the screen. This will allow you to see the schedule of your nearest branch with ease.
COVID-19 has also scared many people who love going to the jump. If you have the same issue you don't have to worry. This is because you can consider online classes.
Does Crunch Fitness Have Online Classes?
Crunch Fitness does not offer online classes at any of its locations. You will have to go to the club to enjoy the various sessions.
Apart from that, you also benefit from the Crunch Live program. This service provides you access to pre-recorded workout sessions.
The gym chain also has an online nutrition program. You can use this to maintain your diet, lifestyle, exercise habits, and much more.
If you don't want to enjoy recorded live sessions from home, worry no more. You can also consider getting private classes for the full attention of the instructor.
Are There Private Classes At Crunch Fitness?
Personal training at Crunch Fitness includes one-on-one sessions and group training. You can enjoy the private session to get the complete attention of the instructor.
However, if you prefer to engage with others during personal training, you can opt for a small group session. The best part is that group training does not include a high number of people.
So you can still engage in a custom workout by joining group classes. Crunch Fitness also allows you to experience personal training and other amenities through a free trial.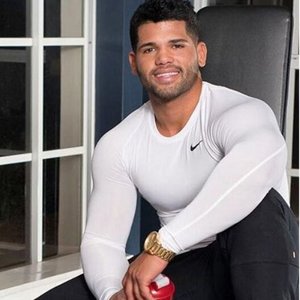 Austin is the author of loveatfirstfit.com and a personal trainer with extensive knowledge in nutrition. Austin is passionate about helping others to find a suitable healthy lifestyle and feel good about themselves. Austin's goal is to help people push their limits and achieve their physical performance.